Well... I didn't have the inspiration, nor the energy to write anything. So I drew instead :D; No one will really understand this besides a small few, but whatever. XD;;
p5ych0sm1le gave me a colouring tutorial, and I think it helped a little :D; I still suck hopelessly, but I think the hair, if nothing else, turned out nice. Sorry I suck, Ange.

So, to save a really long explanation, I'll be concise. In the m-preg!verse I write, Sanzo and Goku have a daughter named Rabenda (stfu, it was chosen long ago), whose birthday is September 3. XD;; So, besides being 9/3, it's her birthday!

I'm really going to try to write something legit soon. I swear.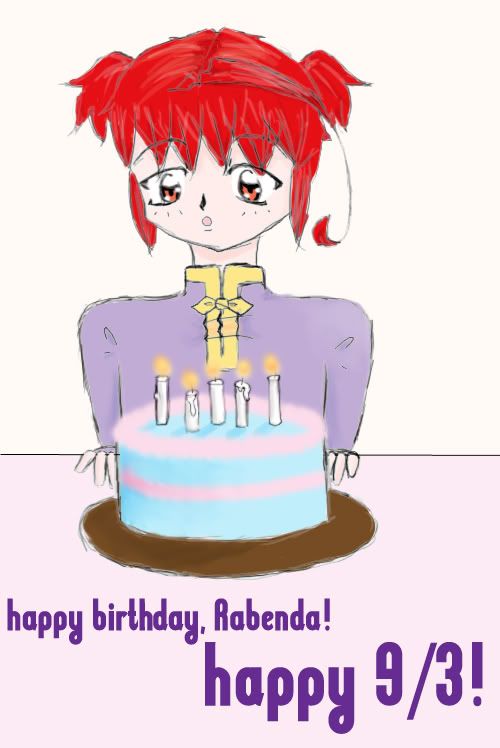 So, I tried really hard to do her part like Minekura does... I was actually using Kubota for reference. Also, I left it sketchy and didn't really clean it up so much because I was lazy I liked the look of it. I know it sucks though. Stfu.

Would anyone like me to post my m-preg verse stories? I didn't think anyone would care... but for the record, a lot of them are centered around the children and the domesticity sort of deal, not the actual m-preg, for those who are squicked.

Some of you need to catch up on the RP~ Please be to doing so. ♥

Also, we're reading Xiyoji in Chinese Civilizations. HOW COOL IS THAT??