I was going to just keep making edits to the other entry, but the sexual nature of Episode 15 needs its own post.

This is cut for spoilers and images. Because screencaps and some recaps of quotes and stuff are included.

So, after the whole "take me from wherever you want" comment, Genbu indeed surprise attacks Kurama from the rear. And, I mean, come on, what does this image say to you?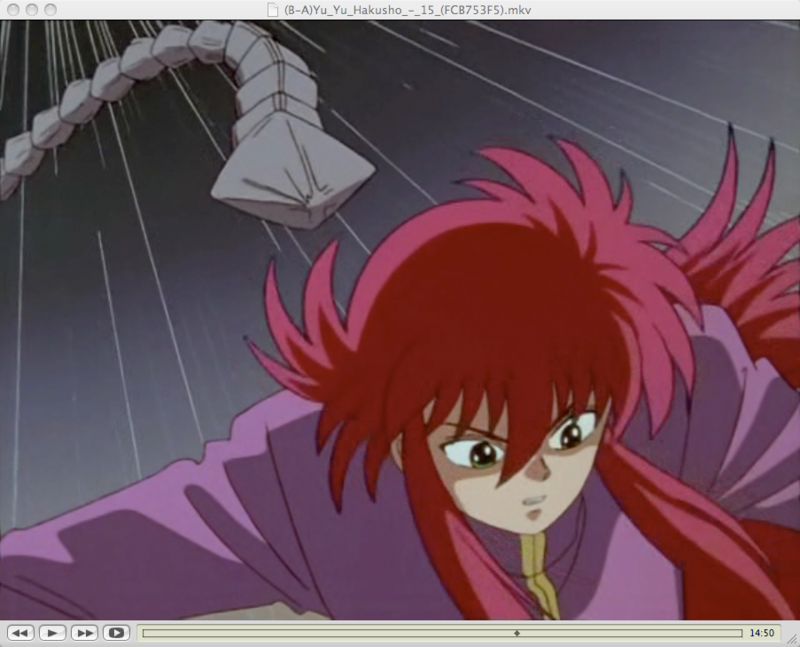 SURPRISE BUTTSEX. Or like. Tentacle rape or something. You know.

So... then some stuff happens, about which I am too lazy to explain, then an occasion occurs for Kuwabara to shout: "HE'S GONNA BE CAUGHT FROM IN FRONT AND BEHIND!" Okay seriously. The episode is trying to keel me with its innuendos.

Also, Kurama is really acrobatic and flexible. X3; I suppose Hiei's a lucky boy, haha. Though, I'm tempted to write a Kurama tentacle plant rape fic... though haha it's probably going to be consensual. I also want to write an everyone in the Yusuke-tachi/Kurama fic... lulz.

... AND AGAIN WITH THE "Doko kara ni douzo" thing! Seriously, kinky. XD;;;

Lol. I really want caps from this episode now.

Note: There's probably going to be a thousand edits under the cut, so. XD;; Don't say I didn't warn you.

Also, this version of Anbaransu na Kiss wo Shite is made of fail. I hate the way they redid the instrumental score.