Subtitles amuse me greatly. And now that I have the power to screencap, I abuse it on a regular basis. So um. ENJOY.



This isn't about subtitles, but wtf @ the reporter lady. SHE HAS NO BOOBS. NONE. She is obviously a drag queen.
Also my touchpad handwriting is lovely, I know.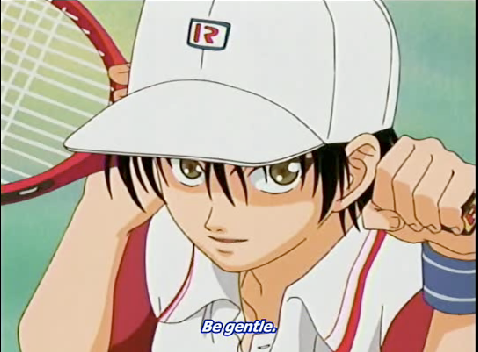 Proof that Ryoma really is Seigaku's little slut.



REAL MEN PLAY DOUBLES. There needs to be a shirt that says this.
chiachiaamichan, we are totally making those this summer. XD;



Y YEZ, WE DID GET SUM.

Please forgive me. XD;;;

[EDIT] Goddamnit,
chiachiaamichan, this is what you do to me. I have never even watched any interaction between Ryoma and Atobe, never even watched an anime episode with Atobe in it, only the musical, NEVER SEEN ANY EVIDENCE WHATSOEVER (yet), and yet I am shipping Royal Pair SO HARD IT'S RIDICULOUS. I've been reading fanfic nonstop and joined the LJ comm and everything. So uh, Just letting you know. THAT YOU HAVE SO MUCH SWAY OVER ME. It's ridic. ... and I love you for it. ♥ DON'T YOU DARE GIVE UP ON THIS WITH ME OR ELSE I'LL DIE.

...

That's all. ♥