... and I'm amused by next to everything in Prince of Tennis. XD;;;

So, uh. Have another AWESOME CAPS POST with KIT'S AWESOME COMMENTARY.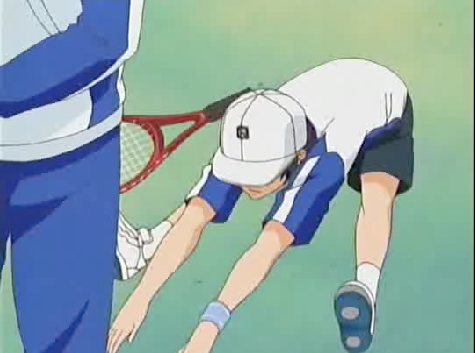 Okay, seriously. Ryoma is FUCKING FLEXIBLE. I really don't think most non-dancers can reach that far... right? I mean, seriously. He must be amazing for Atobe or Tezuka or whoever because Ryoma's a slut butt because like. BENDY.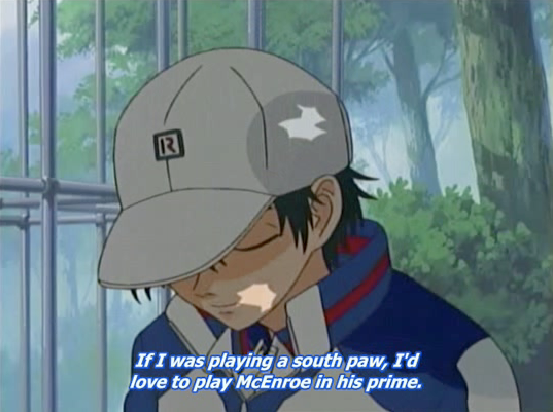 OMG GUYS. A REFERENCE TO ACTUAL TENNIS. stfu I know about actual tennis, I know that's weird.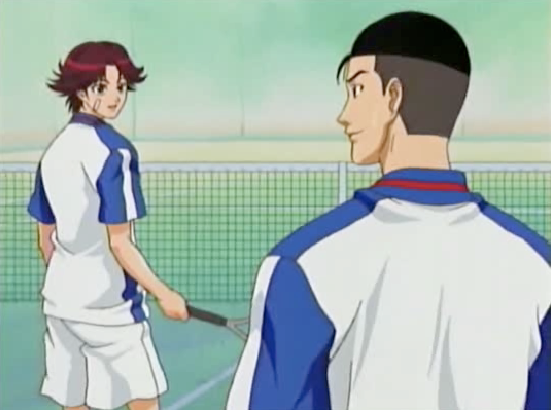 Um. I capped a lot of Golden Pair because they're really adorable. I mean. Just look at how they're looking into one another's eyes lovingly! SO GAY.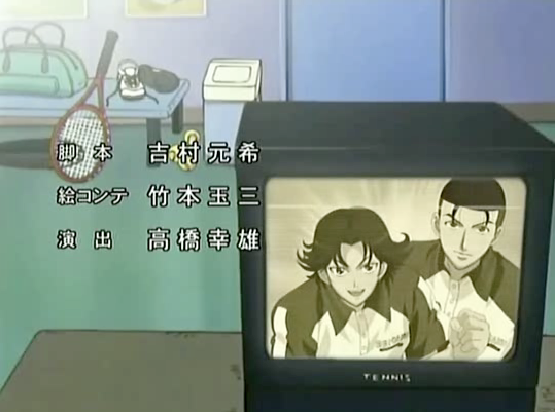 They even got a cameo in the end theme!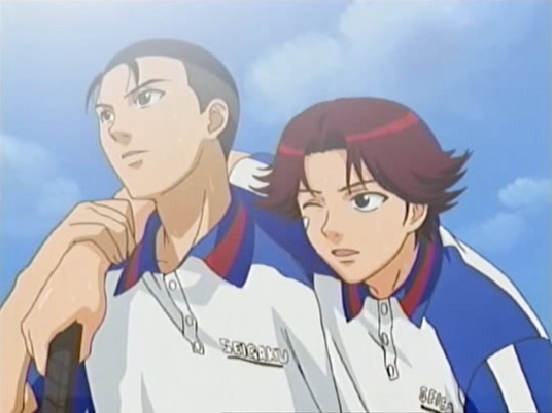 It wasn't really that Eiji couldn't walk. They just wanted to be touching. XD;;



There were a lot of gratuitous shots of Eiji's butt in these few episodes o___O; I think it was like. Oishi's dream camera angle or something. XD;;; (Poor Oishi would be so flustered if he knew I said these things about him.)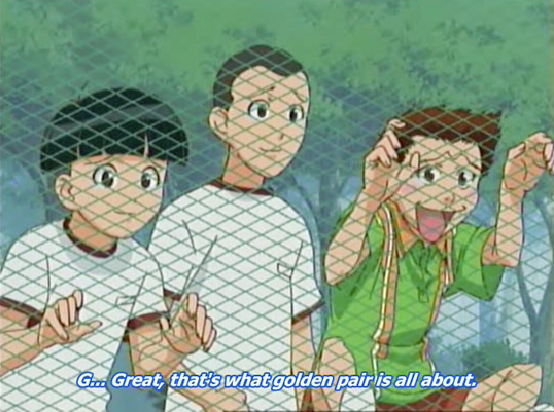 I was amused that the Ichinen Trio randomly became Golden Pair fanboys. XD;;; They were all like, crying. And Horio's expression was hilarious. I bet he went home and wrote some Golden Pair fanfiction or read some porny doujinshi about them or something. XD;;



HAHAHAHA-- I mean, I'm sorry for your loss...
Uh. Mizuki scares the FUCK out of me sort of like my imouto-chan...



LOOK AT THE ADORABLE LITTLE BABY FROSH YUUTA!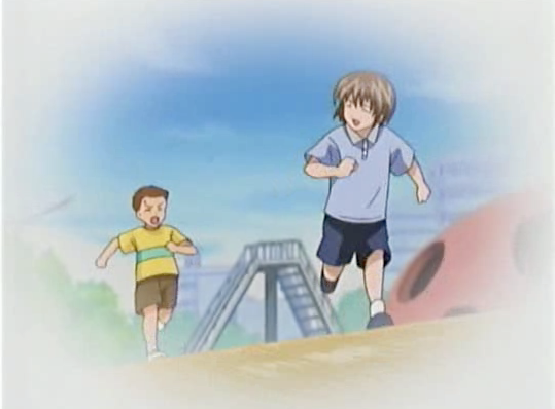 LOOK AT THE EVEN MORE ADORABLE BABY FUJI BROTHERS!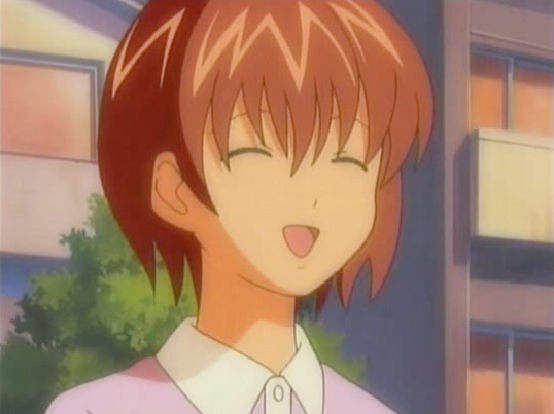 LOOK HOW MUCH LESS TERRIFYING FUJI WAS AS A CHILD. ISN'T HE CUTE?!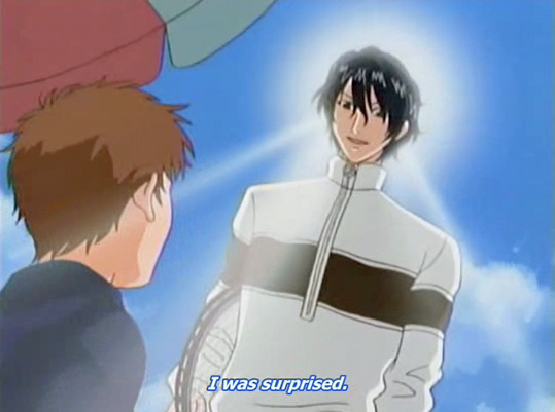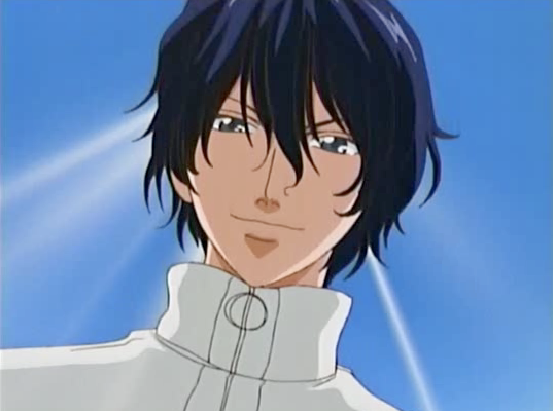 Yuuta is also under the distinct misconception that Mizuki is god. Maybe it's because he's from St. Rudolph's, where, according to fanon, his parents sent him to "scare the gay out of him." Personally, the gay is what scares me the least about Mizuki.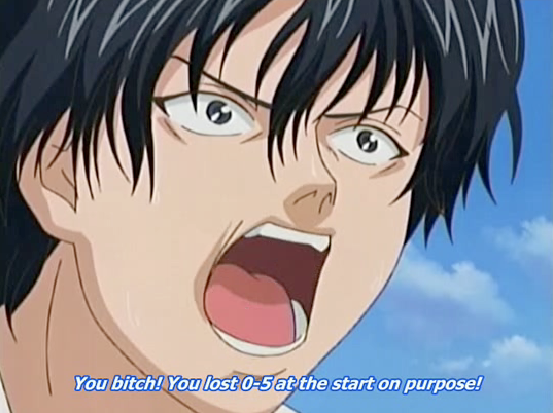 So, the actual insult he used here was "kissama!" XD;;; Usually, I've noted, "kissama" and "teme" are translated as "bastard!" or just "you--!" But no, Fuji was WAY too feminine for those, so he got to be "BITCH!" XD;;; I love the translators.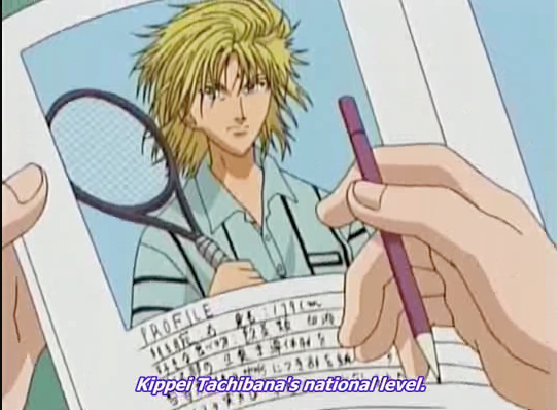 TACHIBANA. Y SO FABULOUS???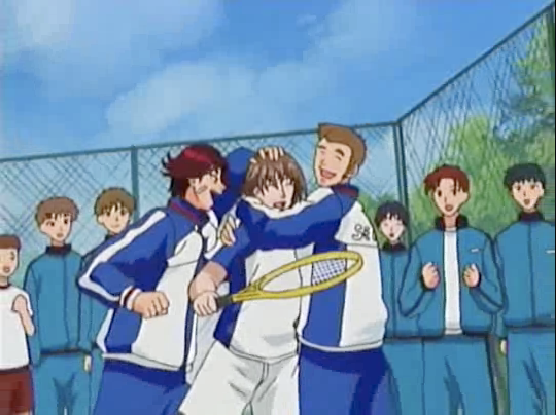 Uh, so, in this St. Rudolph match and in the Hyoutei matches, I kind of fell in love with Fuji AND Kawamura AND KawaFuji as a pair. XD;;; idk how that happened, but. I thought this was cute (never mind Eiji butting in XD)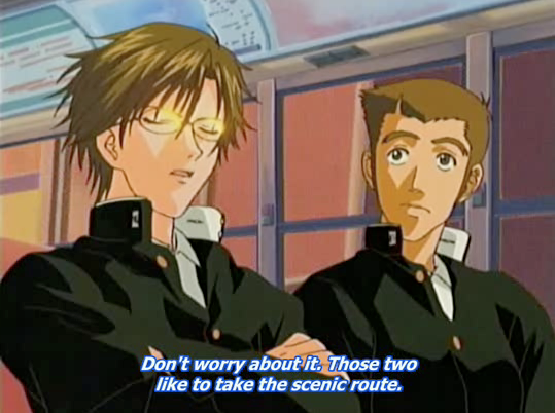 Kawamura: Where are Oishi and Kikumaru?
Tezuka: Don't worry about them, they like to take the scenic route *nudge nudge*
XD;;; Actually, they're like, sitting on their box being emo about losing, but Tez made it seem a lot more suggestive XD;;;; I BET TEZ READS FANFIC ABOUT GOLDEN PAIR TOO.


And then, from Imperial Match, when I was capping Fuji, I happened to get this: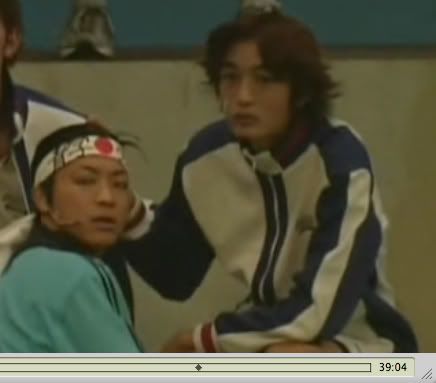 Seriously, it looks like they were making out and then got caught or got distracted by Fuji or something. XD;;; AWKWARD. I mean really, with Oishi's expression and their positioning... and if not making out, seriously, was Eiji like, stroking Oishi's hair or something? XD;;;

Uh, I need to go to bed XD;;;