At a similar time of night. That's just how cool I am. XD;;



Let me start by noting that the "bitch" here is "teme," not "kissama" like last time. Those silly translators. XD;;;



LOOK AT RYOMA'S FACE. IT'S HILARIOUSLY TERRIFYING!



Again, Ryoma's face. What the terrifying. XD;;;;



This is Ryoma imagining Kawamura on a date. No lie. BECAUSE IT'S NORMAL TO BE GAY IN GAY TENNIS JAPAN!! He kind of missed the mark though... Kawamura's type is obviously effeminate and creepy as fuck. XD;;;



Poor Taka-san, getting picked on by Eiji. Everyone's faces here made me LOL though. Oishi is adorable XD;;;



OISHI'S FACE AGAIN. He's like "Eiji. You know you don't like women, so don't lie..." XD;;;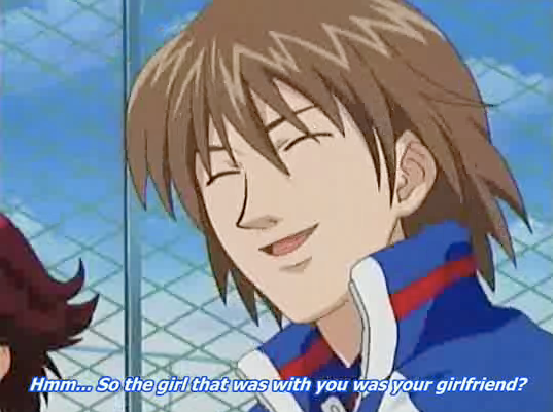 "What happened to you Fuji?" "I got jealous..." No but really XD;; He obviously was jealous.



Um. Yeah, about how Fuji is terrifying, as well as jealous. XD;;



idk why but Eiji's making a sex face. XD;;;



This is when Ryuzaki is like "YOU GUYS HAVE TO PLAY AGAINST ONE ANOTHER GOLDEN PAIR!" Oishi's like ":)" and Eiji's like "8O" XD;;



YES THEY ARE GOING AT IT!



...this sounds like a sexual innuendo, even if it really isn't. XD;;;



I'm apparently making fun of people's faces a lot in this post... XD;;;; FACE HAHA.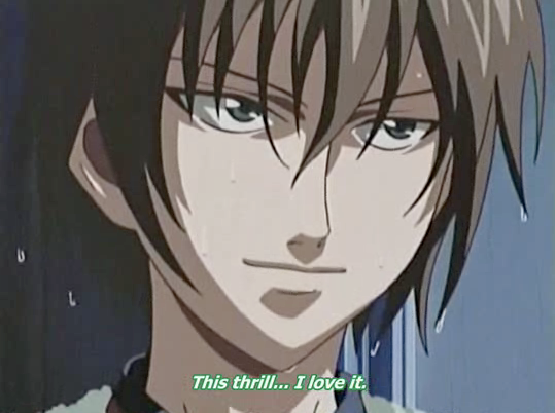 DID I MENTION THAT FUJI IS TERRIFYING? Even when he's making semi-sexual comments. XD;



SEX AGAIN. I'm sensing a theme here. It's better in the animation; he's panting. XD;;;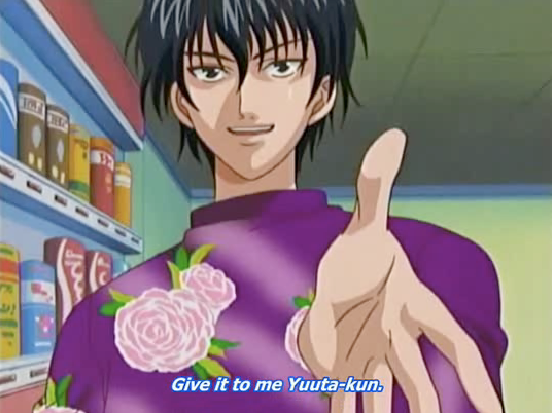 "YOUR VIRGINITY!" BUT SERIOUSLY, MIZUKI. Y SO FABULOUS AND PURPLE AND ROSY?



There was no real good way to capture this in caps, but like, that shadow is Mizuki about to rape Yuuta. XD;;; [See this for further details XD]



See, look. How can that not be sexual? WHAT WERE THEY THINKING WHEN THEY INVENTED MIZUKI SERIOUSLY??



HAHA. Ryoma has yo balls.



Ryuzaki thinks all her boys but Golden Pair are sluts, apparently. XD;; Either that or she can't decide who to ship. XD;;;; I still can't believe Fuji and Taka-san lost to fscking Yamabuki *throws a fit*

...

Err. Happy birthday, Fuji! Please don't kill me for writing a fic about your brother getting raped on your birthday!