I've kind of been slow in watching TeniPuri lately, so this is kind of an extra-large conglomerate of a bunch of would-be small caps posts. There's also a little from Dream Live 3rd in here, because there are just some things that I couldn't resist. XD;;

Uh. Enjoy at your own risk XD;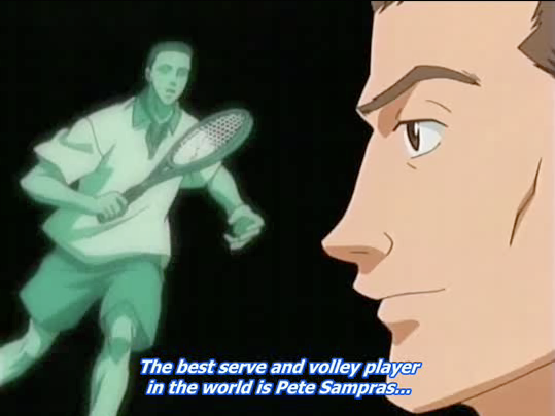 We'll start with another OMG REAL TENNIS REFERENCE? Also lol @ anime!Pete Sampras.



Fuji makes Horio excited.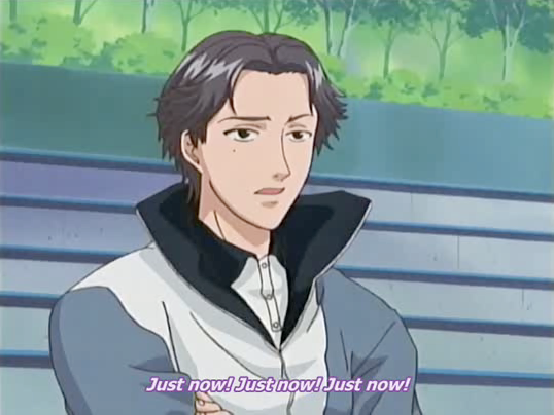 Jirou, however, makes Atobe exasperated. AW isn't that face adorable? XD;;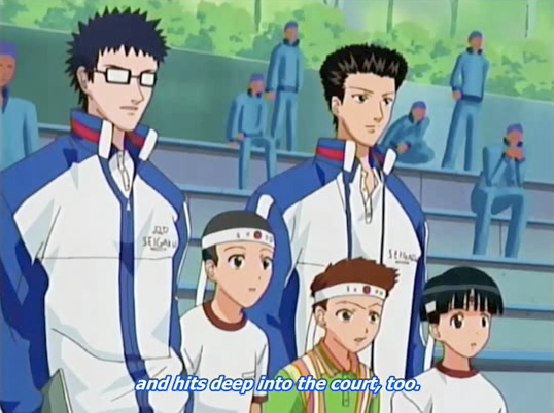 THE COURT LIKES IT WHEN YOU DO THAT! XD;; The point of this cap is actually to show you the epic purple-haired Seigaku second year non-regulars. LOOK. THEY ALL HAVE PURPLE-HAIR.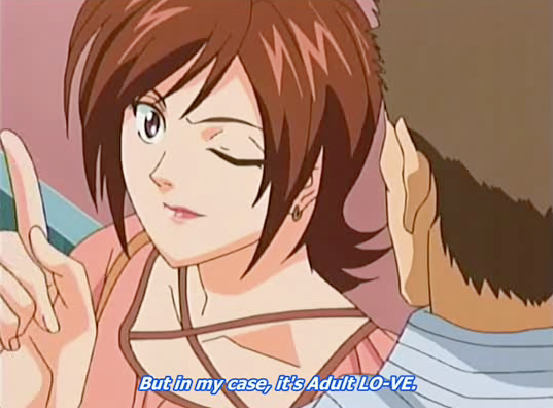 SOMEBODY IS A PEDO.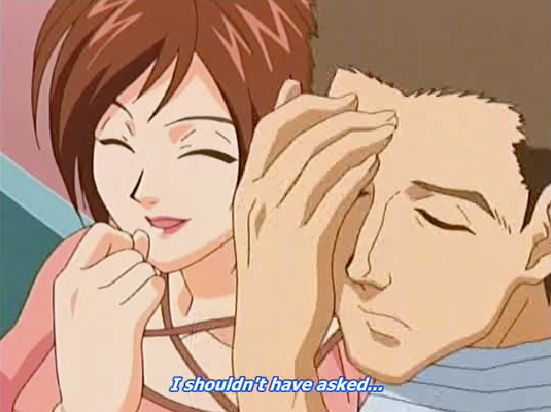 Inoue is scarred for life.



Speaking of pedos, what u lookin at thar Sakaki?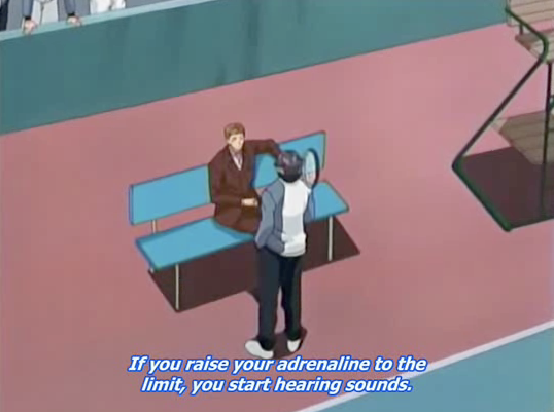 wtf Atobe. Sakaki has made you CRAZY.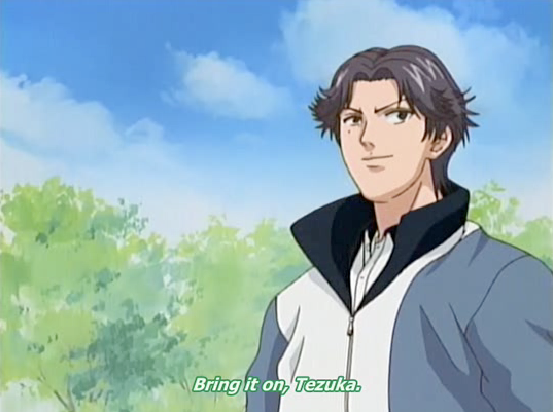 HE'S SEXY, HE'S HOT, HE'S EVERYTHING YOU'RE NOT! This... fits surprisingly well. Also,
chiachiaamichan, this is a reference to how Atobe's eyebrows are weird shaped.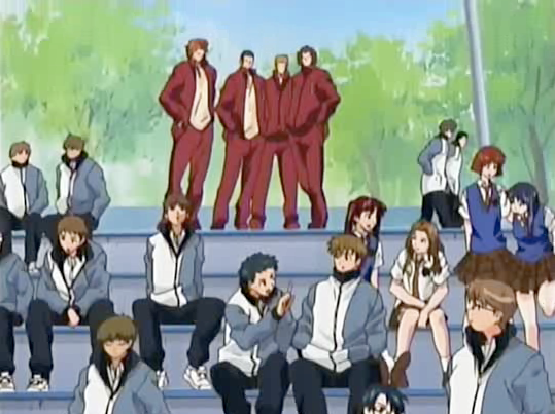 Why does the Hyoutei girls' uniform have a blue vest? That clashes so badly.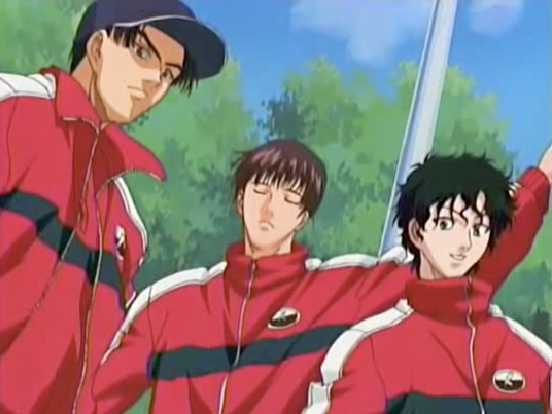 Y SO RED, RIKKAI??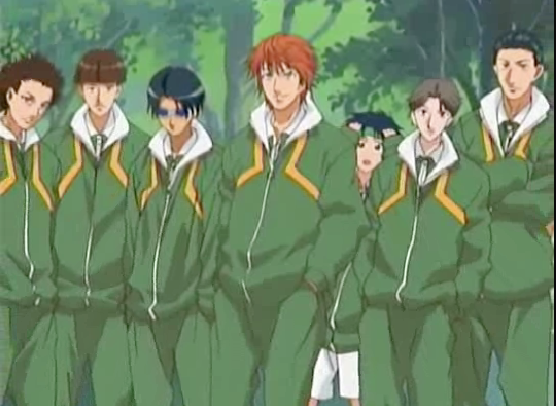 Aww, Dan is so adorable! Still... I wouldn't want him as a Regular on my team. XD;;;



Tezuka: Now that no one is around, do it with me, Ryoma!
Also, note Ryoma's very satisfied expression XD;;;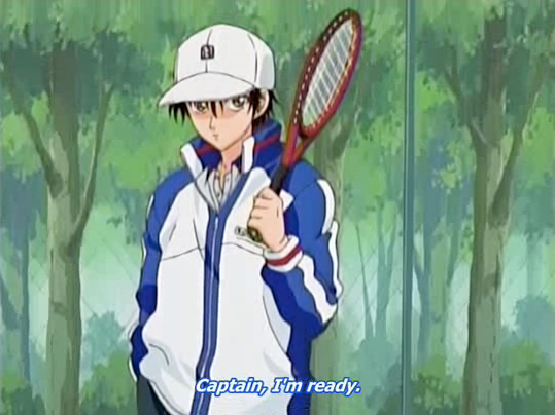 Oh, he's ready, all right.



MOAR SEX PLZ.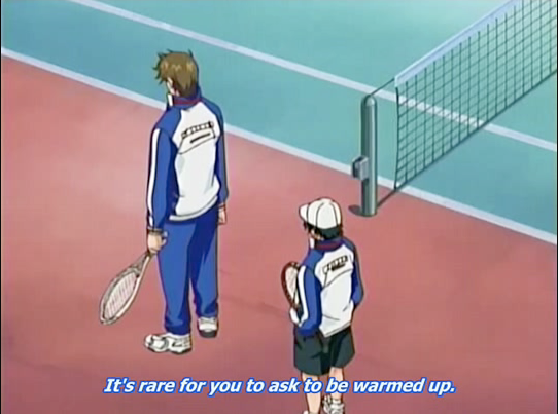 Tezuka: Warm me up, Ryoma~
Ryoma: ... X3 Uisu~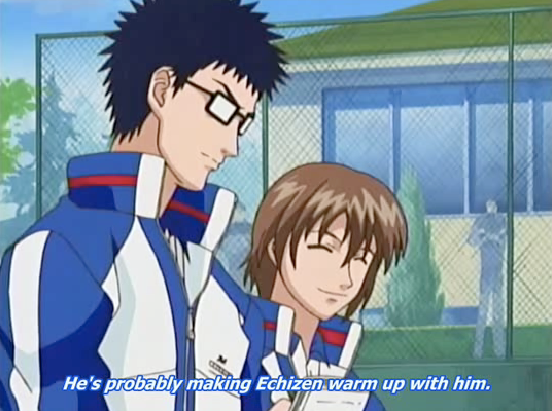 Fuji: Oh, Tezuka's just off molesting Ryoma. ♥

Prince of Tennis Chibi episodes are crack. Proof:


...don't you mean bishounen senshi? XD;;



In the first short, Mizuki was the villain. He had fabulous eyeliner. XD;;; I still think he should have been riding Yuuta, though... if you know what I mean~



The ichinen boys were so cute~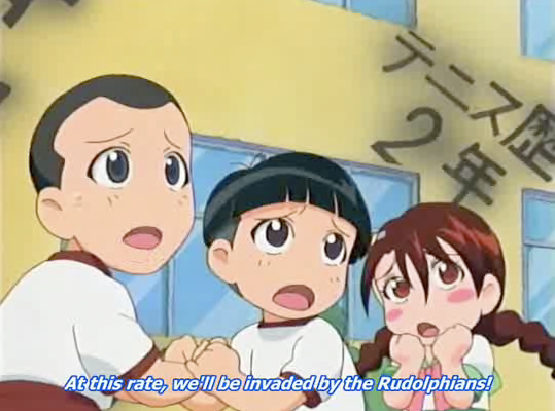 Kachirou and Katsuo love each other.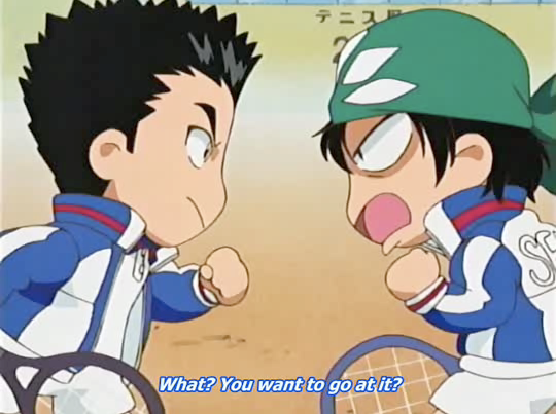 Kaidoh and Momo want to go at it.



Fuji's Higuma Otoshi attack was very cute. XD;; I also love Fuji's expression here...



Mizuki loves his gameboy advance and shoujo manga.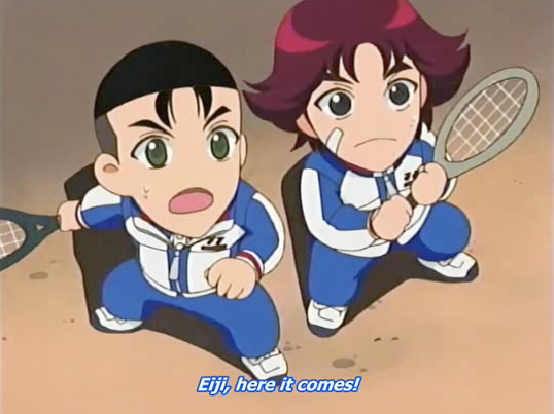 I could make a joke about "coming"... but GOLDEN PAIR IS TOO CUTE, ESPECIALLY IN CHIBI FORM.

Next was Snow White...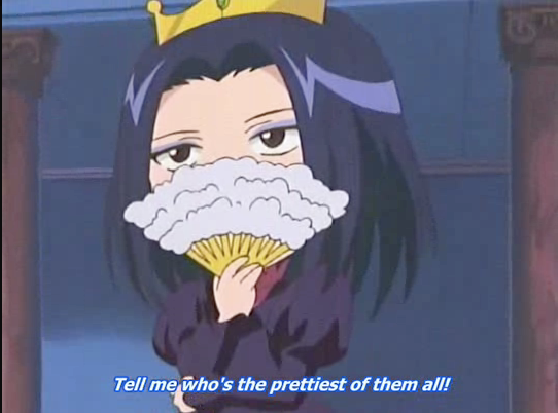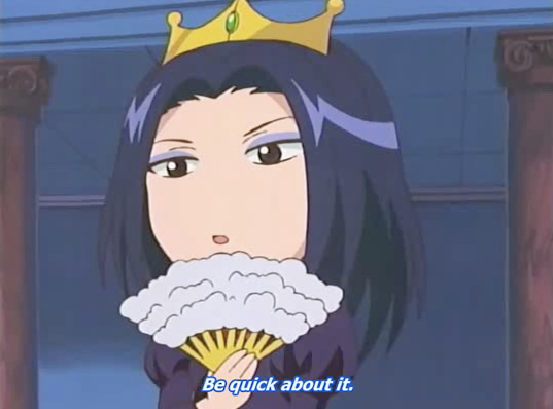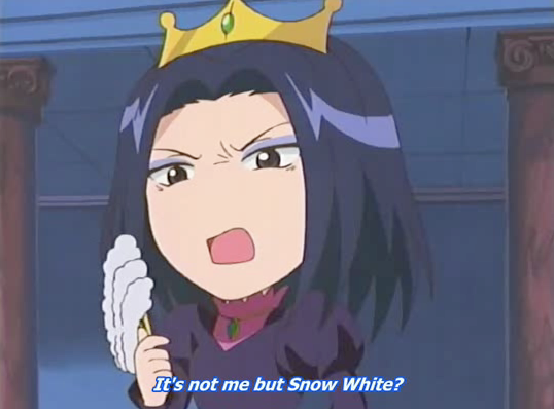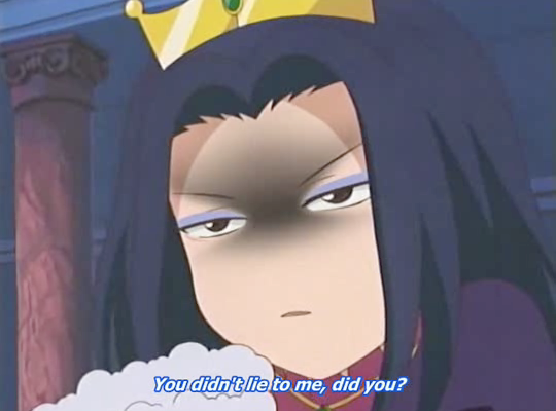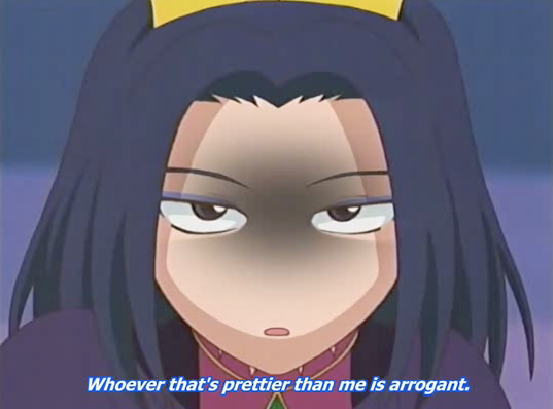 And Shinji was the queen, god help us all.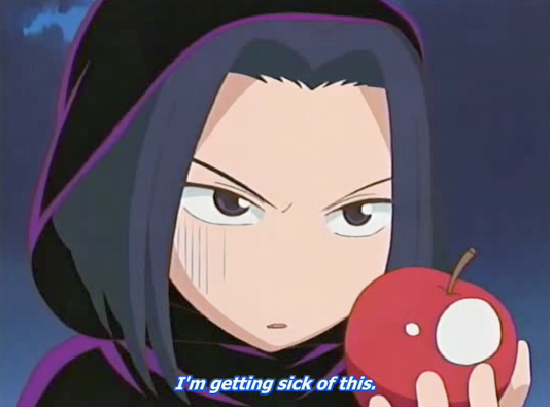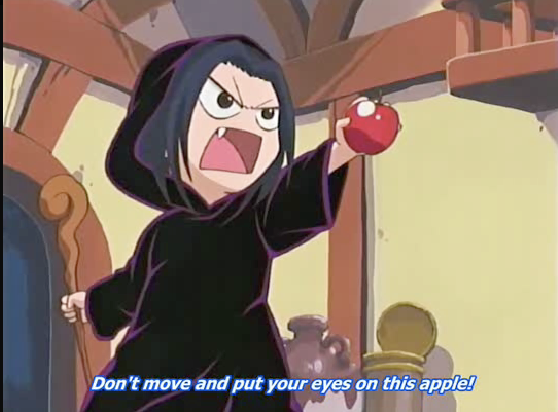 He kind of adorably looked like he was cosplaying Nekozawa from Ouran, though. XD;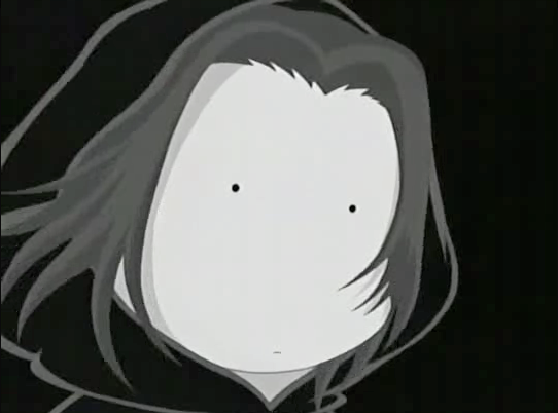 Shinji: wtf.



Fuji luffs his baby brother. So much that he watches him change...? (upper left photo) Who took these pictures? XD;;



He not so much luffs his baby brother's sociopath boyfriend. Note the picture of Mizuki surprise buttsexing Yuuta. XD;;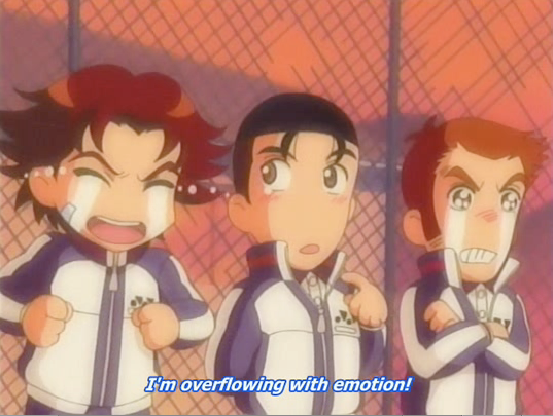 Aww Eiji. XD;;; I'm refraining from making sexual jokes again.
I should have gotten a cap of Ryoma crying... that was cute. XD;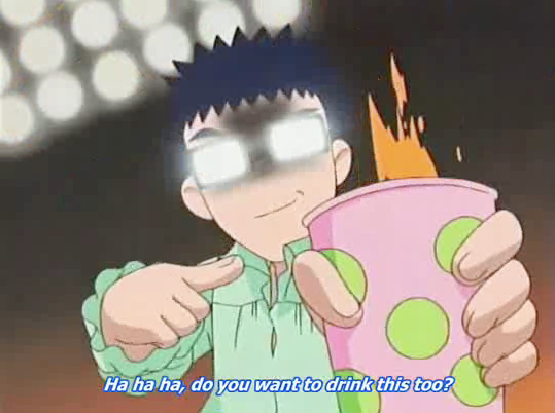 ...Inui has a shirt like Atobe's. At least it's not purple...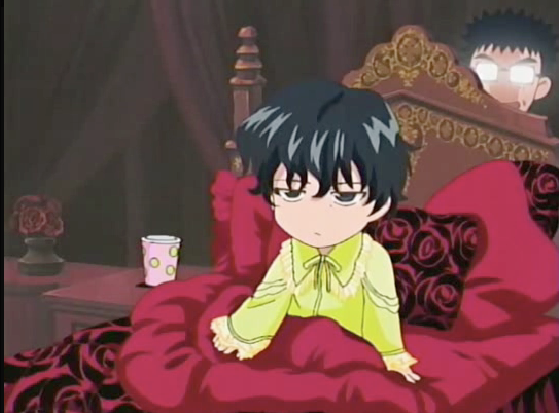 This is without a doubt my favourite cap of them all. 1) MIZUKI'S NIGHTGOWN THING. 2) MIZUKI'S BEDROOM. 3) INUI THE RAPIST?? 4) MIZUKI'S BEDCLOTHES. This is, without a doubt, absolute win. I wonder if that's Mizuki's dorm room... I see a very uncomfortable Yuuta in the near future. XD;;;

This is from a different short, but: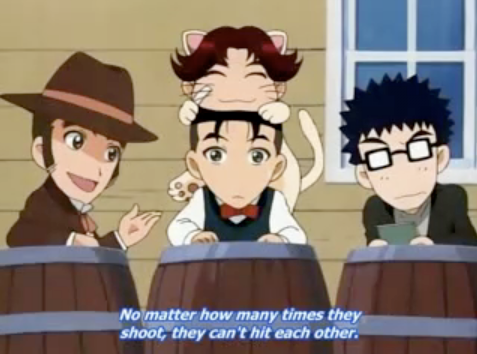 Dude, wtf. Eiji is a sex kitten. I mean... I can't seriously not make any sexual remark with the way he's like. Wrapping his leg around Oishi there. And the like, satisfied expression on his face? SEXUAL.

And from DoRai 3rd: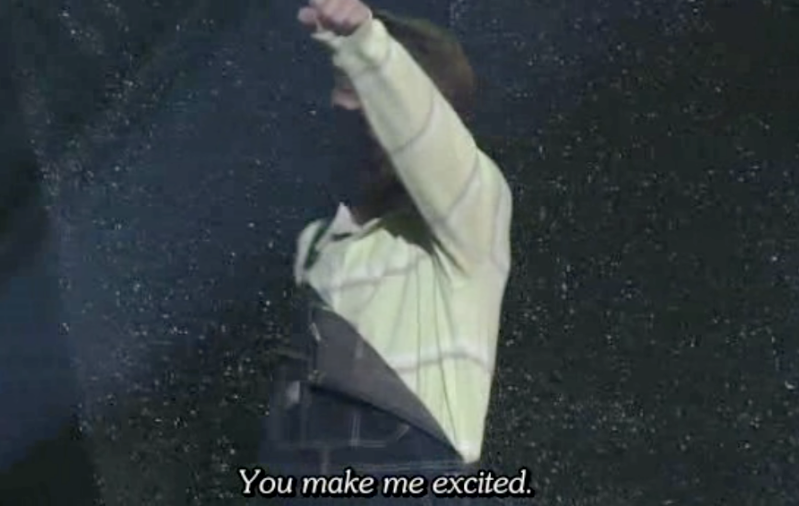 Again with Horio being excited. XD;; Sorry you can't see his face here, but like. Srsly. Though this was originally Yuuta's part to sing, in Imperial Match, and it just got changed for DoRai 3rd... Hm... I see a homocidal Mizuki if he ever finds out Ryoma makes Yuuta excited. XD;;;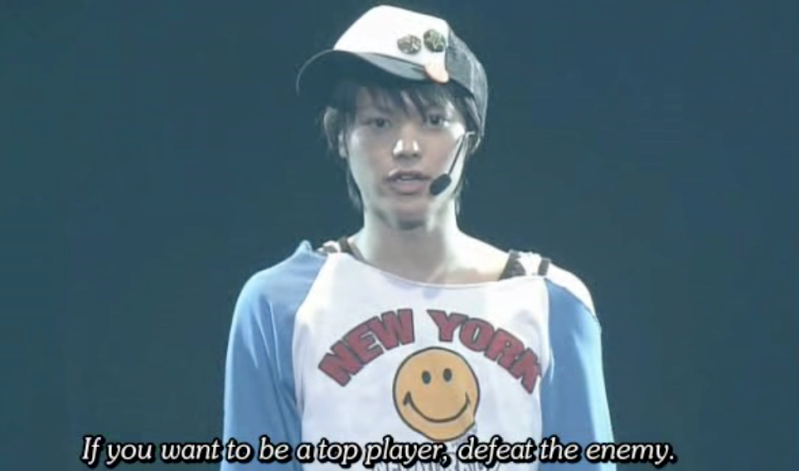 wtf Ryoma. What are you wearing. Note how it's a girls' shirt style and the top's been cut off (80s, anyone?) and he's wearing a tank top under it and he's wearing overalls undone. JUST WTF?




And of course, we can't forget the ass grab!! This is right after Ore-sama no Bigi ni Boogie Woogie and before Season. They're walking back to their places and Oshitari puts his hand on Gakuto's back and then slides it down oh so carefully to grope his ass. DIRTY PAIR, ANYONE?

Hope you were amused... tune in next time. XD;