Today is everyone's favourite Seigaku-mama's birthday! I felt like I should write something... but I didn't have the inspiration, so I drew something instead. XD;;;
Happy Birthday Oishi!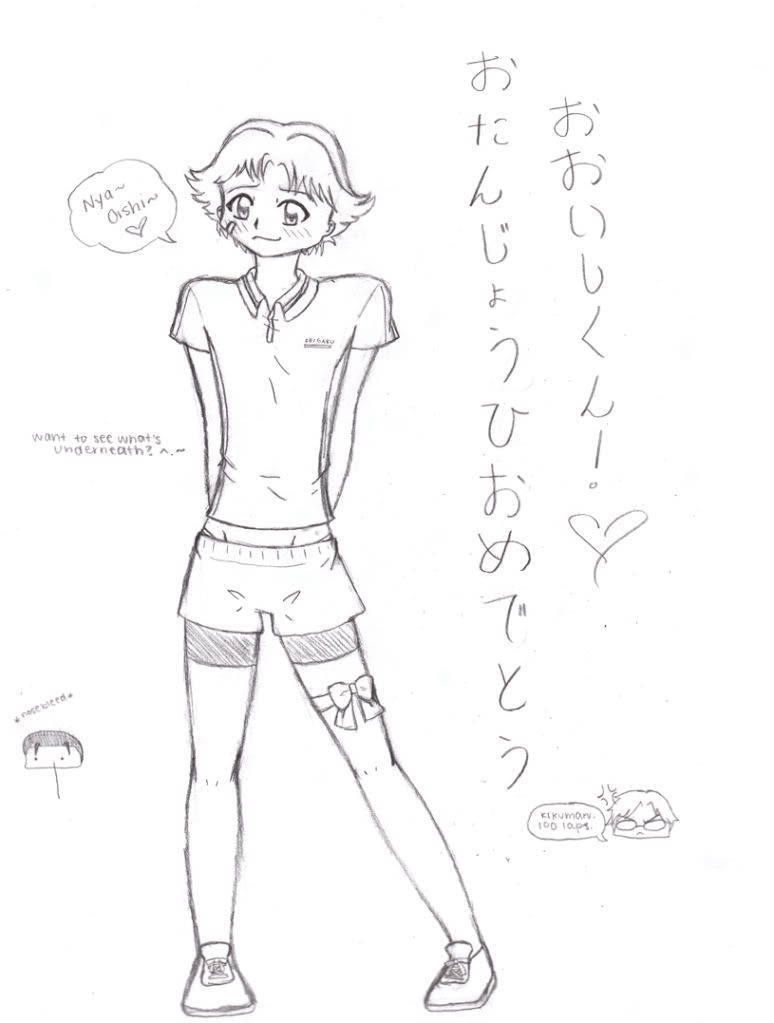 So, I know the pictures I draw of this variety tend to be really blatant... but for once, this one has some subtleties XD;;; I know there's a crap ton of smudges; it's only a sketch and all, but some of them are intentional if you look carefully. XD;;; Originally, Eiji was supposed to have some sort of gift showing from behind his back... but then I thought, what better gift then himself? XD;;; With a little extra flair, of course.
And maybe he has something complementary behind his back, we'll never know~
britkit27
says he borrowed Ryoma's uniform. I don't think Ryoma's going to want it back later, though... XD;;;
[EDIT]
Okay, this pic has prompted me to wonder... what exactly DOES Eiji wear under his spandex shorts? He can't possibly wear boxers, they're way too tight. SO GUYS WHAT DO YOU THINK HE WEARS? Tighty-whities? Nothing? A pink thong? Give me your thoughts on this matter? XD;;;
Current Mood:
artistic
Current Music: Oishi Shuuichirou and Kikumaru Eiji//Type wa D!