For those of you who don't know, Futari no Samurai, the one of the Prince of Tennis movies (not to be confused with CinePuri, which is fail, or Atobe's gift, which I'm told is win, or the OVA, which actually happens in the manga... which defeats the purpose of an OVA?), is COMPLETELY RIDICULOUS. Like, COMPLETELY. I didn't even cap all of the ridiculosity, but trust me on this one. I shall provide a plot summary under the cut, along with the caps, so, uh, SPOILER WARNING!

That being said, please laugh your ass off enjoy!

It all begins when the Seigaku Regulars get invited to go on a cruise ship for free, so long as they will play an exhibition match. Of course, they go. Or else this movie would have no plot. They're amazed by the crowd that gathers to watch them practice.



Momo takes this opportunity to flirt with his very favourite sempai (it becomes obvious as the movie progresses that someone in the animation team shipped Momo/Eiji... XD;;;)



Of course, Eiji, being who he is, flirts back. XD;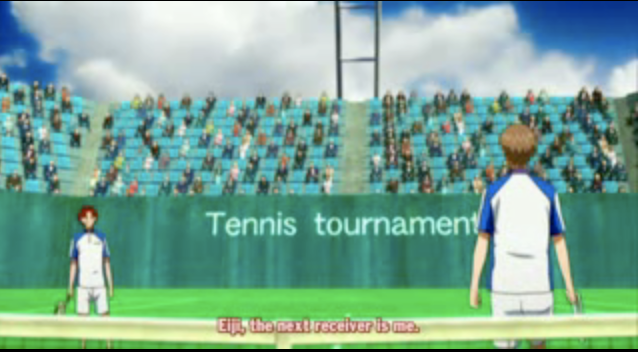 But somehow, Dream Pair happens instead, and Fuji wants to be the uke.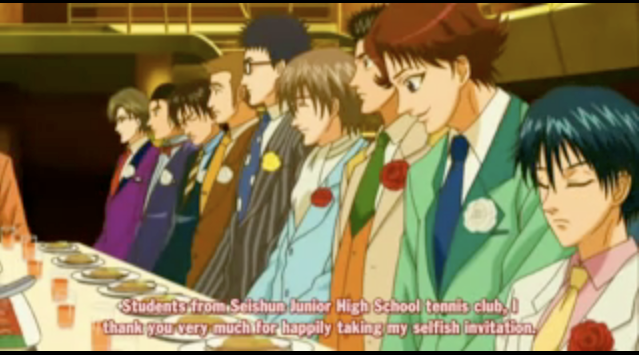 Later, at dinner, the boys are looking snazzy... note Tez's purple wonder-ness, Oishi's bowtie, Ryoma's pink, and Fuji's cravat. XD;



Instead of listening to their host, however, Eiji and Oishi are making kissyface plans for later...
Oishi: Hey Eiji~
Eiji: Who, meeee~ Nya~?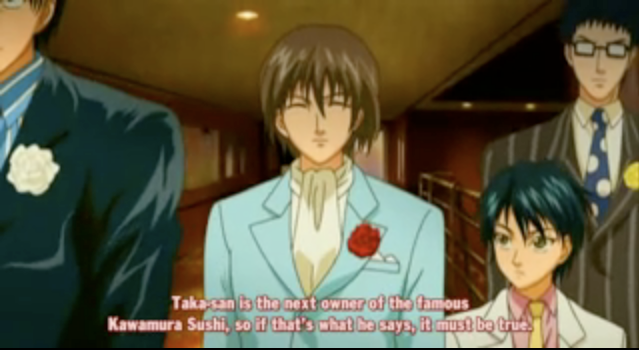 Aww, and Fuji's so sweet.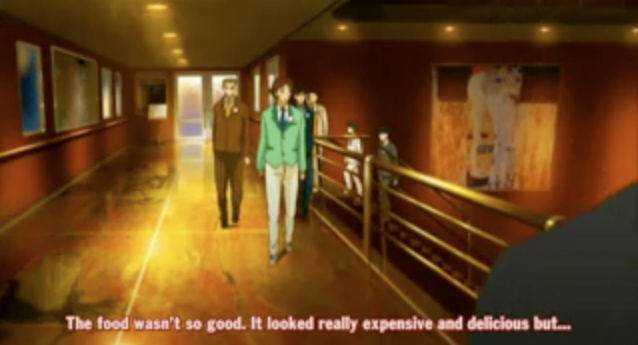 And Eiji has some hot pants... XD;

BUT THEN THEY DISCOVER THAT IT'S A FIXED GAME AND THEY'RE SUPPOSED TO LOSE ON PURPOSE FOR THE SAKE OF GAMBLING. O NOES!

So what do they do?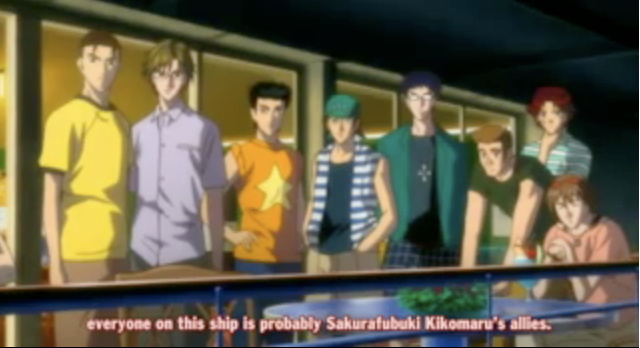 They change into more fabulous attire! Seriously, check out Fuji's sunglasses, pink shirt, and black tank underneath. And his cute blue exotic drink. UNDERAGE DRINKING? I ttly don't use you as a plot device like ALL THE TIME...

CUT TO ATOBE! Because Hyoutei is obligatory. XD;;;


Check out that outfit. Tez is put to shame in Purple Wonder-ness.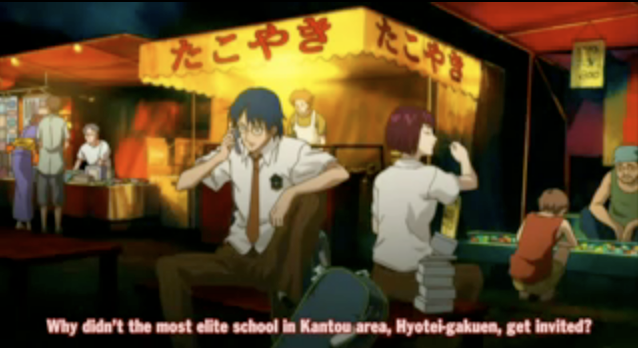 Meanwhile, Dirty Pair is on a date. XD; Note how many boxes of takoyaki Gakuto has gone through... poor Yuushi's wallet. XD;

SO, it turns out that one of the people they're playing against is Ryoma's LONG LOST ADOPTED BROTHER! Only, he looks exactly like Nanjirou when he's a kid and looks exactly like Ryoma when he's older, so I think Nanjirou was fucking around.
chiachiaamichan thinks he cloned himself. XD;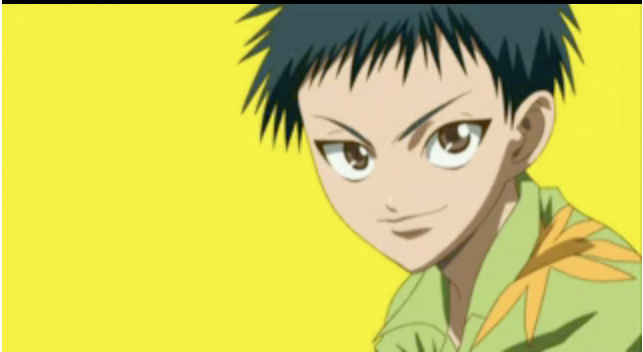 Nanjirou!Ryouga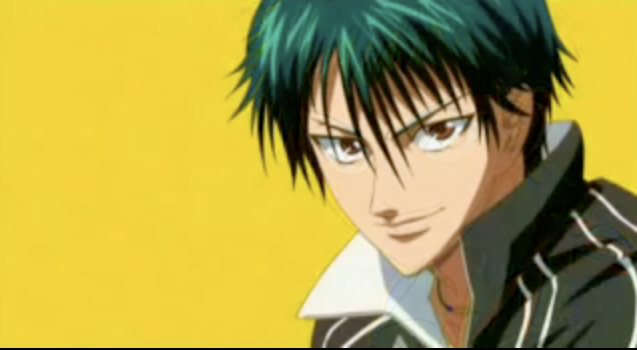 Ryoma!Ryouga (by the way, who names their kids the same thing with one letter different, seriously?)

And to prove that there's no way he can't not belong to Nanjirou in some way:


CLONE.

So, all of the doubles games (AND WTF AT THE PAIRS. INUI/TAKA? SRSLY?) won really easily, which makes the creepy boat owner man mad.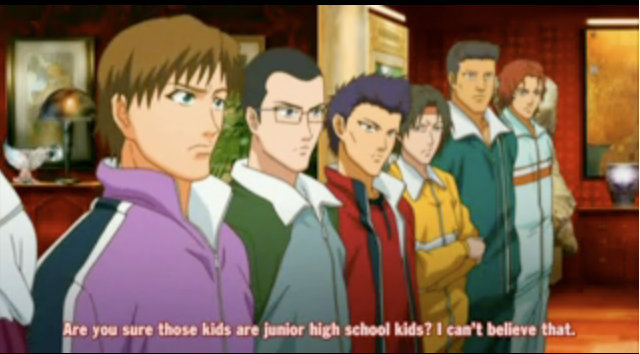 For the record, that would be my reaction, too. XD;



The SEKRIT EIJI MAN is in their base, however. XD;

Um... they get chased around and darts thrown at them.... and then: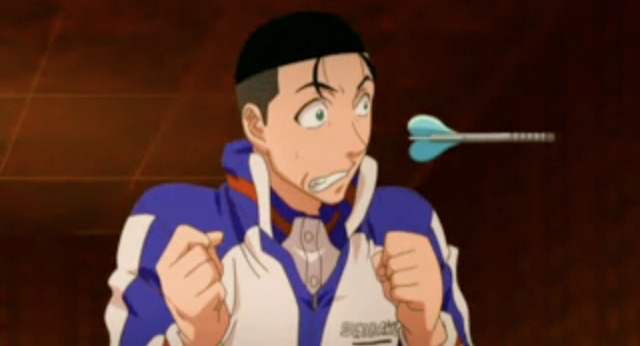 Oishi's face. XD;;;;

Um... and then a lot of shit happens. Everyone gets held hostage and some guy gets Inui Juice'd and Fuji plays someone and then Tez plays and OH GOD.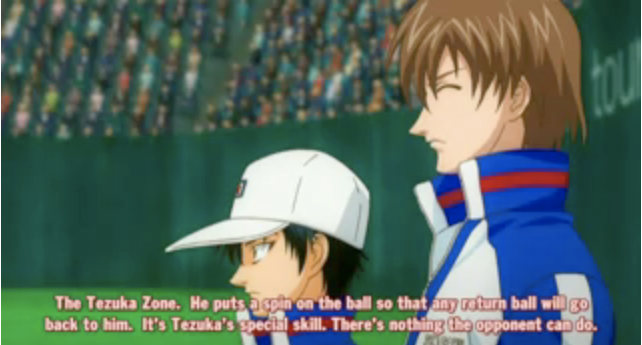 First, they try to explain Tez Zone. Which is like. Not possible. XD;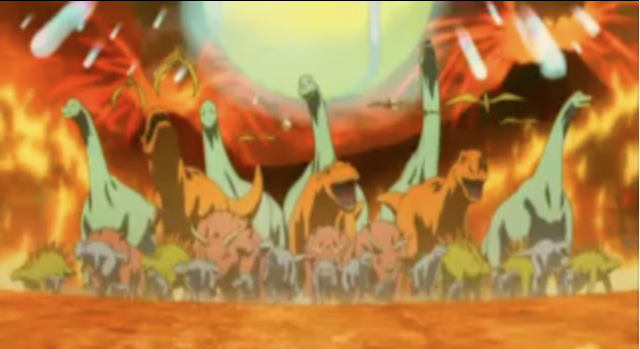 Tez Zone killed the dinosaurs.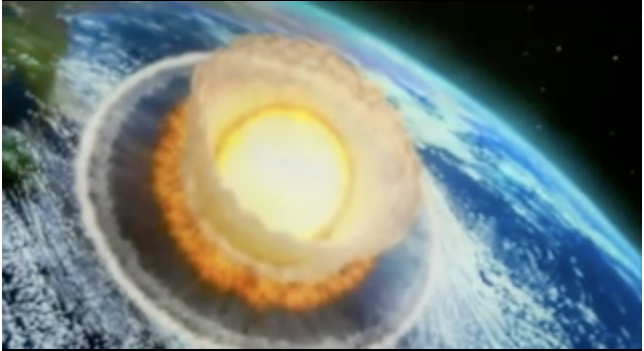 NO REALLY. THAT'S NOT AN ASTEROID. IT'S TEZ'S BALL.

And then a lot more shit happens... The boat breaks and starts falling apart... Ryouga turns into a good guy and they play tennis... and then they play tennis underwater and in a flaming tower of fire...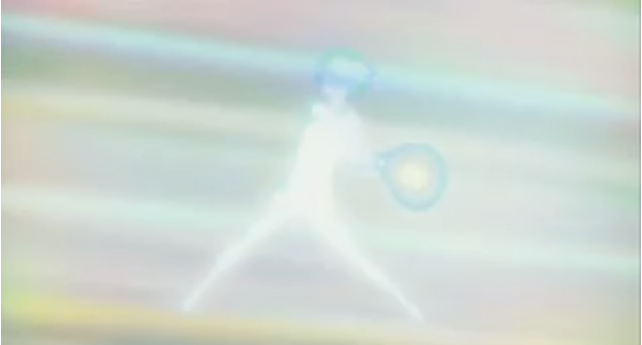 AND THEN THEY PLAY TENNIS NAKED IN THE SKY.

Meanwhile, the rest of the boat is panicking because, FUCK, this has become Titanic meets Prince of Tennis, only with less nudity and sex.

There is an adorable Golden Pair moment...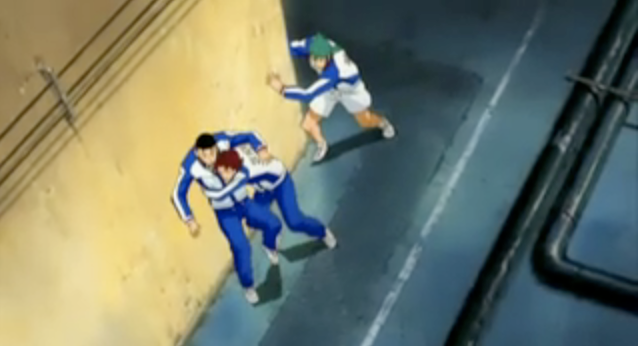 Aww.

But then Eiji gets shoved off the edge of the boat into the ocean and Momo goes after him (note the subtlety here XD) and Oishi's just like "NOOOOO EIJIIIIIIII" XD;

AND THEN: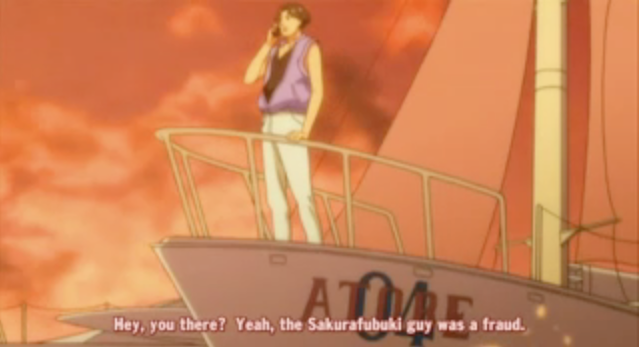 ATOBE COMES TO THE RESCUE AND SAVES THEM WITH HIS PRIVATE BOATS AND IT'S HAPPILY EVER AFTER.

Seriously. One hilarious movie.