I'm going to be moving in the next year, so I want to take this opportunity to re-home some goods that aren't being loved as much as they deserve! If you're interested, please look under the cut.

Kis-My-Ft2


3 USD ▷ Kis-My-Ft2: Ai no Beat [Limited Dance Version]
No packaging; obi inside the case; removed and used once; like-new condition
3 USD ▷ Kis-My-Ft2: Unmei Girl / My Resistance ~ Tashika na Mono [Limited Edition B]
No packaging; obi inside the case; removed and watched once; like-new condition
7 USD ▷ Busaiku: Tana Kara Botamochi [Limited Edition]
New in its original packaging

OR all 3 for 10 USD.
SOLD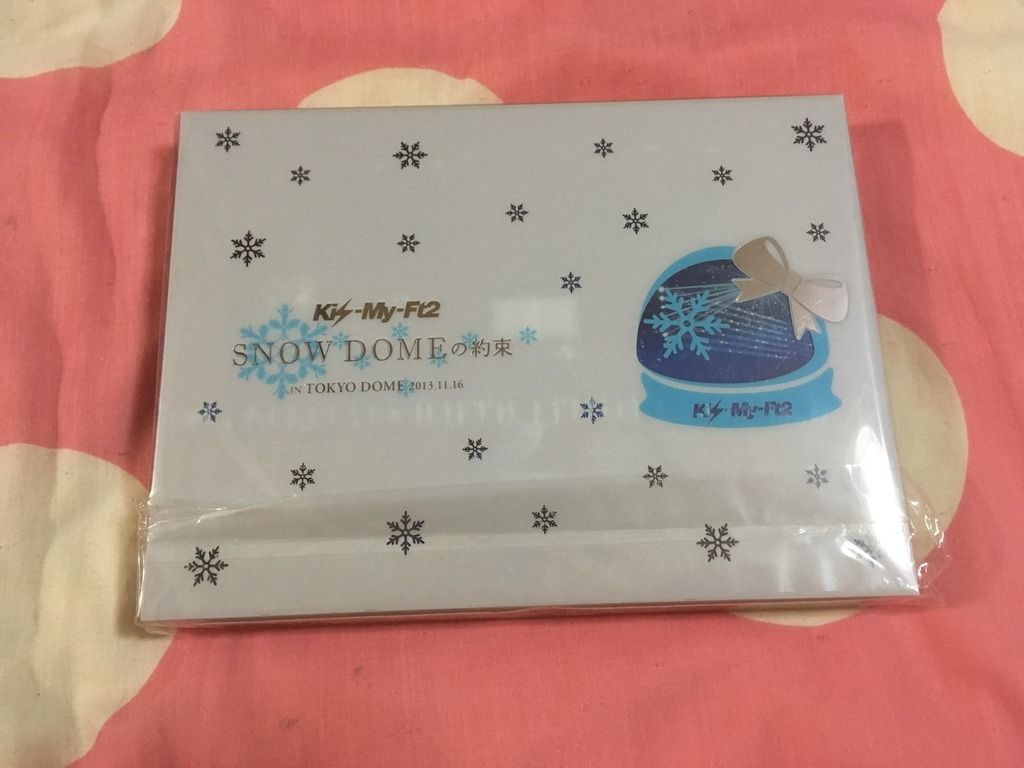 15 USD ▷ Kis-My-Ft2: Snow Dome no Yakusoku DVD [Limited Edition]
Original packaging; some wrinkles in packaging; opened once but discs never used. Like new.
SOLD


Sexy Zone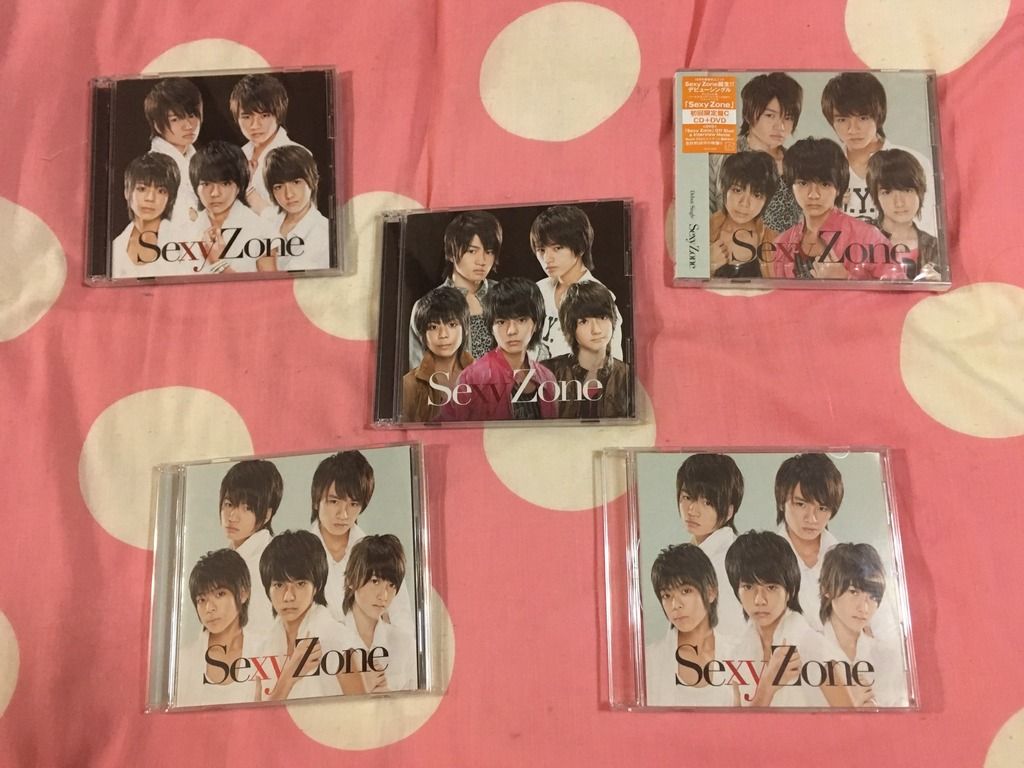 3 USD ▷ Sexy Zone: Sexy Zone [Limited Edition A]
No packaging; obi inside case; removed and used once; like-new condition
3 USD ▷ Sexy Zone: Sexy Zone [Limited Edition B]
No packaging; obi inside case; removed and used once; like-new condition
7 USD ▷ Sexy Zone: Sexy Zone [Limited Edition C]
New in its original packaging
2 USD ▷ Sexy Zone: Sexy Zone [Regular Edition]
Packaging removed but saved; obi inside case; CD never removed from case or used
2 USD ▷ Sexy Zone: Sexy Zone [Regular Edition]
Packaging removed but saved; obi inside case; CD never removed from case or used
SOLD



3 USD ▷ Sexy Zone: Lady Diamond [Limited Edition B]
No packaging; obi inside case; removed and used once; like-new condition
2 USD ▷ Sexy Zone: Lady Diamond [Regular Edition]
No packaging; obi inside case; removed and used once; like-new condition
3 USD ▷ Sexy Zone: Sexy Summer ni Yuki ga Furu [Limited Edition A]
No packaging; obi inside case; removed and used once; like-new condition
3 USD ▷ Sexy Zone: Sexy Summer ni Yuki ga Furu [Summary Preorder Limited Edition]
No packaging or promotional stickers; obi inside case; removed and used once; like-new condition
3 USD ▷ Sexy Zone: Sexy Summer ni Yuki ga Furu [Regular Edition ]
No packaging; obi inside case; removed and used once; like-new condition
SOLD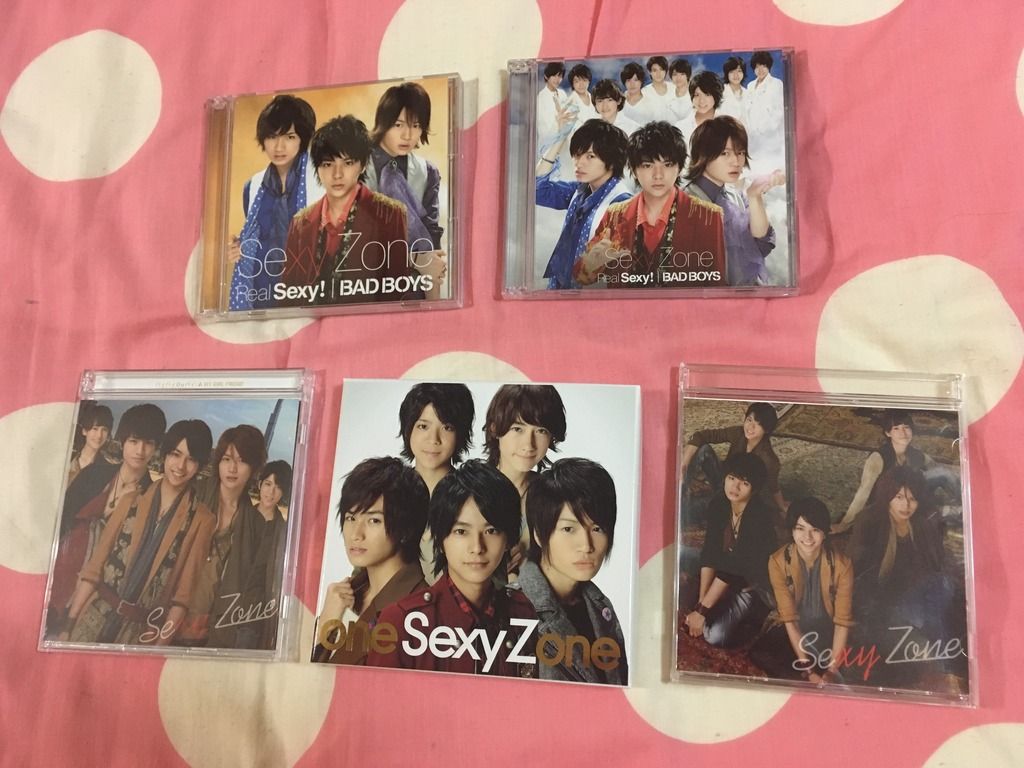 10 USD ▷ Sexy Zone: One Sexy Zone [Limited Edition]
No packaging; removed and used once; like-new condition
3 USD ▷ Sexy Zone: Real Sexy/Bad Boys [Limited Edition A]
No packaging; obi inside case; removed and used once; like-new condition
3 USD ▷ Sexy Zone: Real Sexy/Bad Boys [Limited Edition B]
No packaging; obi inside case; removed and used once; like-new condition
3 USD ▷ Sexy Zone: Baibai Dubai [Limited Edition F]
No packaging; obi inside case; removed and used once; like-new condition
2 USD ▷ Sexy Zone: Baibai Dubai [Regular Edition]
No packaging; obi inside case; removed and used once; like-new condition
SOLD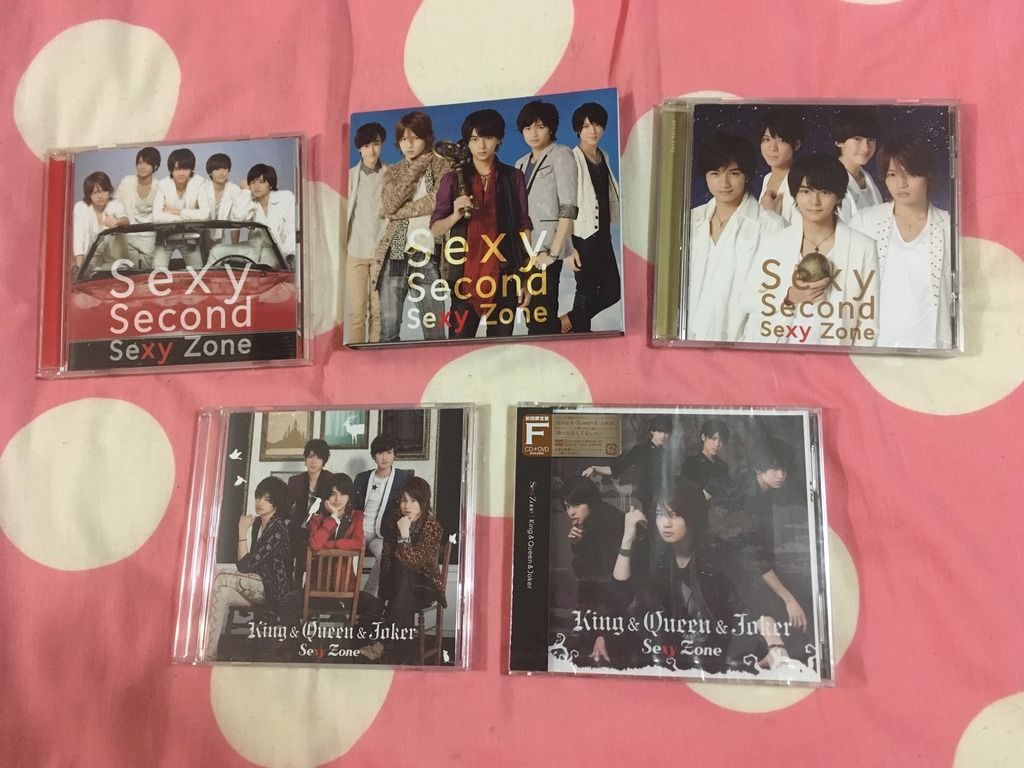 10 USD ▷ Sexy Zone: Sexy Second [Limited Edition A]
No packaging; removed and used once; like-new condition
10 USD ▷ Sexy Zone: Sexy Second [HMV Limited Edition]
No packaging; removed and used once; like-new condition
7 USD ▷ Sexy Zone: Sexy Second [Regular Edition]
No packaging; removed and used once; like-new condition
3 USD ▷ Sexy Zone: King & Queen & Joker [Limited Edition F]
No packaging; obi inside case; removed and used once; like-new condition
2 USD ▷ Sexy Zone: King & Queen & Joker [Regular Edition]
No packaging; obi inside case; removed and used once; like-new condition
SOLD



10 USD ▷ Sexy Zone: Welcome to Sexy Zone [Sexy Zone Shop Edition]
No packaging; removed and used once; like-new condition
SOLD

Please feel free to ask for more photos!

Prices do not include shipping.
Shipping costs can be estimated using this page.
Shipping choices are EMS or International Parcel Post.


If you're interested, please comment and indicate what shipping method you prefer! I'll get back to you with the shipping cost. If you're still interested, I'll send you a paypal invoice. I'm sorry, but I can't accept any other methods of payment besides paypal.

Thanks for looking!